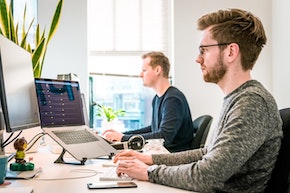 Learn how to make an informed decision for your website development needs
Not all developers offer equal services!
A quick Google search for your area will likely provide hundreds of results, not to mention the fact that the developer doesn't even need to be in your area to be the right fit for your needs! Even though a Denver WordPress developer may have a few benefits to those in the Denver area, there's usually no harm in choosing somebody who lives in an entirely different country. The biggest consideration is just timezones, but aside from that criteria, how are you supposed to choose the developer that would fit best for your project? Don't worry: there are a few things you can look for to get an idea of the developer's skill set and experience, and choose somebody who will be able to deliver what you're looking for
Decoding a developer's skillset
There's lots of lingo in the web development arena, which can sometimes make it hard to tell exactly what a developer can or can't do. Here are a few common terms to not only help demystify what a developer offers, but better equip you to define your own project:
A frontend developer focuses on the parts of your site that the typical user will see. PHP templates, menus, forms, and animations are often some of the key areas they will specialize in. They're typically good at helping with UX and making the site look good, though it isn't their exact expertise.
A web designer doesn't have anything to do with code at all. These are the true UX and aesthetic experts, and they're equipped to create a beautiful mockup of what your site will look like. Usually, this is in something like PhotoShop or another Adobe tool, and the key thing to note here is that they don't actually code or deliver a functioning website. Some designers also offer development services, but they are not the same skill set!
A backend developer or plugin developer is more focused on the gears behind the scenes of your site. They don't focus so much on frontend templates or UX design (though sometimes elements of those come into play), but instead on the functionality that makes your site run. They're likely to be versed in eCommerce solutions, memberships and restricted access, site performance optimization, and those types of things.
A full stack developer is shorthand for somebody who combines both frontend and backend chops, as well as database and server experience on top of it all. Somebody who advertises themselves as a full stack developer is confident in their ability to take on any of your website needs.
A developer who builds web apps creates self-contained programs based on your server. These are designed to slot into an existing website, and can be in a varied range from a simple calendar tool to a totally custom eCommerce solution.
Often times developers will have experience in multiple types of development, so just because a developer specializes in frontend development doesn't mean they don't also have web app experience. It all just goes into the consideration of your options when looking for a developer.
Budget and experience
Now that you've figured out what the developer you're considering actually does, the next step is to look at their experience, and by extension, the effect that will have on your budget. Money is always a consideration, so it's worthwhile to take some time to look at your project to determine its complexity. Do you need a fairly standard site built with some templates available to purchase? Or do you need a site brimming with totally custom functionality and unique templates? A developer who's only been in business for a couple of years may not have the experience needed to fully tackle a big custom project, even if their lower rates are tempting. While somebody with 15 or 20 years of experience may drain the wallet more, you're more likely to get somebody equipped to handle a complex project. A developer not properly equipped to handle a project may end up costing more in the long run anyway, if work has to be outsourced or redone.
Experience affects other areas too
Beyond just budget, a developer's experience can affect other areas of your project too. Oftentimes, a developer can fill gaps in their skillset by implementing plugins or theme builders onto a site. Sometimes this makes sense: if a feature is common enough that there are several plugin options already on the market, there's no need to reinvent the wheel. Or if non-tech-savvy users want to have the power to make layout changes, a page builder could be the solution. But while there are times and places for these tools, they should not be overused. The more files on a site, the more performance can start to drag, and having a developer working for you who can make the site work without plugins will be able to better articulate the pros and cons of each path.
We want to set up our clients for success, which sometimes means turning down a project and pointing them in a different direction. We're always happy to discuss a project over a free quote, and if we're not properly equipped for your project, the best path for both you and us is to get you in touch with somebody with the expertise you need. But with our 15+ years of experience in Denver WordPress development, there's not much we can't handle when it comes to WordPress sites!