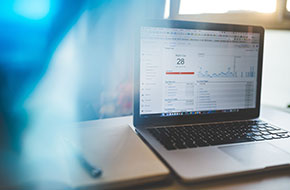 Start Using Big Data to Improve Your Business
WordPress is one of the biggest names when it comes to hosting websites. EarthWeb's article "How Many Websites Use WordPress In 2022?" found that over 455 million websites — or nearly 40% of all websites on the Internet — use WordPress. All of those websites produce tons of data. Big Data, to be precise.
Big Data refers to massive volumes of data that can provide valuable insights into your business — but that can't be processed using traditional techniques. This is why Big Data analytics exists. Its applications are so vast that its market will reach $549.73 billion by 2028.
This makes data analytics invaluable to improving the performance of your business website on WordPress. If you're still on the fence about using it, these reasons prove why you should change your mind.
Going digital is all about data
Today, digital transformation is vital if you want to keep up with the competition. Data analytics plays a significant role here because every interaction you make — both with other businesses and with customers — generates data. This is data you need insights from, but can't analyze on your own.
That's why an entire industry has grown around data analytics. The experts here are so in-demand that their profession is growing faster than average. Universities are responding by providing more comprehensive data science programs to meet this demand. These programs equip professionals with additional business insights so they can more capably give your website the benefits listed below.
It improves your site's visibility
Every business' dream is to have their site appear at the top of Google's rankings for their relevant keywords. This makes your site's search engine optimization (SEO) performance crucial. Data analytics is the best and most accurate way to measure it — and there are many ways to do so.
Site and content audits look at how well distributed your business' keywords are throughout your site. Meanwhile, technical SEO checks for detrimental SEO issues like page loading times, duplicated content, broken links, and security vulnerabilities. From here, you can simply fix these issues to improve visibility: loading times can easily be fixed by optimizing your images, and we've mentioned that WordPress' built-in functions for sanitation, validation, and escaping can help secure your site.
It reinforces business decisions
To process Big Data, analytics tools and professionals use AI — and, more specifically, machine learning (ML). ML applications like the WordPress plugin AFS Analytics use statistical algorithms to quickly identify how people use your site and predict how they'll do so in the future. Big Data's vast and diverse data sets, makes these predictions more accurate.
You can use these applications to make better business decisions for your site, such as what kind of content to post next or what features your site needs. You can even plan campaigns that are more relevant to customer preferences. Data analytics thus gives you a simple and effective way to move in advance. It can even cut costs by helping you avoid decisions that don't provide a ROI.
It enhances the customer experience
Data analytics also helps you make better choices about how your site approaches customers. This is largely because it allows for you to monitor your website users in real time — so you can redesign your website around their browsing behavior.
Maybe your website is visited more often if it uses a particular WordPress theme and layout. If visitors frequent your blog the most, you can feature it prominently on your homepage. If you offer products or services, you can provide tailored recommendations based on individual browsing history. Over 71% of consumers are frustrated with impersonal experiences, so using data analytics can provide a significant ROI.
As your business grows more dependent on your online presence, you'll have to improve your website to meet your needs. Data analytics is the one tool that can help you do that.
Post solely for the use of mrwpress.com By Kay Julian