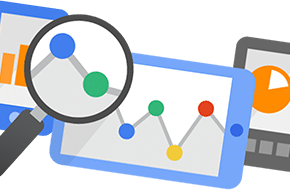 Don't forget about your site after it goes up!
Website analytics let you keep track of your site's performance
Designing and posting a website is a lot of work. It can be tempting to leave your site alone once it's up – you put in the work for it, so it should return the favor! Unfortunately, it's impossible to tell just how well your website will do when it gets out in front of people. Plus, the Internet and digital marketing is a constantly evolving arena. What worked when your website was first published may not work a few months down the road. To ensure your website has the best success, it's important to keep an eye on it. That's where website analytics, using programs like Google Analytics, come in.
What do website analytics keep track of?
In short, everything having to do with your website's visitors. The analytics take average measurements of all kinds of stats – how long visitors stay on your site, what pages they visit, what page they were on when they left, and even what links or ads they click on. It even keeps track of what country they're from, what language their browser is set to, and what device they're visiting from. There's no super personal data, but gathering this type of visitor information can be crucial for marketing and website management.
Use your data to improve your site!
So now you've collected all this data – what do you do with it? Well, it varies by the site, but web analytics helps you hone in on what needs to be done. For instance, if almost all of your visitor's leave after visiting a certain page (that isn't the cart!), you know to focus on that page. If your visitors aren't spending enough time on a page you want them to, then you know to work on the content and SEO for that page. If you're not getting a lot of conversions, you'll know to work on some calls to action.
Again, this is a constantly evolving process! What worked when you first launched the site may not work in a few months. And then, what worked when you made changes after a few months may change again later. Routinely checking your website analytics is crucial. It's the best way for ensuring your website is performing at its absolute best – for it to work for you, you have to work for it.