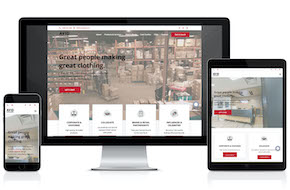 A few examples of what WordPress can do
See the work that earns us our 5 star reviews
Here at Mr. WPress, we've been in the business of WordPress development in Denver for more than 15 years. We pride ourselves on taking the time to do the job right, and our review scores speak for themselves. From entire site builds to custom plugins and small functionalities, we give every project our full focus and attention. We specialize in backend development, and have a wide network of WordPress web designers to flesh out the frontend and turn any website dream into a reality. Check out some of the sites we've worked on in the past to get an idea of the sites we can put together for you!
Avid Apparel
Avid Apparel is a company specializing in providing customized apparel for all needs, from schools and businesses to popular influencers. For the Avid Apparel site, we worked with their in-house team of WordPress web designers, using a theme template but as a base but building several custom elements like a tabbed case study gallery and numerous animations to bring the site to life and excite their clients. They required several landing pages with exact specifications as well, and we were delighted to provide.
Winston Motorsport
Winston de Wardt is an accredited professional racing driver with a diverse background of competition and coaching, from Formula cars to Rally / Drifting. He wanted the Winston Motorsport site to be a streamlined single-page experience, and we obliged with a top menu that navigates around the page and a several expansive images to showcase the exciting world of racing. We were happy to add a few extra features as well, like a slick loading icon and custom color for the map.
iPourIt
iPourIt installed the world's first beer wall and since then, they've been hard at work perfecting self-pour technology. They came to us looking to overhaul their site, and we rebuilt almost every single page. We worked with a third party WordPress web developer who helped them redefine their brand, then brought that vision to life on the site. From a layered, custom blog navigation to tabbed galleries and a programmatic list of clients, we pulled out all the stops for the new iPourIt site.
Snatched Lab
Snatched Lab is about high-quality treatments and effective results: the smart choice for skin and body care treatments. We built their WordPress site from the ground up, taking stylistic inspiration from numerous sources provided by the Snatched Lab team and turning it into an earth-toned, welcoming color scheme with aspirational images. Add in some dynamic features like before/after sliders and integration with their scheduling software, they ended up with a compelling WordPress experience.
Chiropractic Solutions of Denver
Chiropractic Solutions of Denver specializes in treatment and recovery from common bumps and bruises, as well as rehabilitating more traumatic ailments caused by accidents or sports injuries. The team there had an existing site with a color scheme but was looking to modernize the look and feel of their previously developed site. We helped them source a new slew of images to bring a human element to their site, fitting perfectly into new galleries and sliders.
Ready to start designing and building your own website? Don't hesitate to reach out to us for a free quote today!