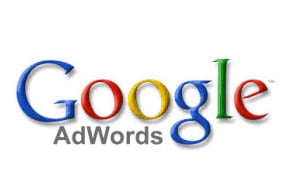 Google AdWords is a great way to promote your business online
No budget is too small to get started with Google AdWords!
Are you a new company?  How about just looking for a little more exposure?  Do you need a little help to get your site ranking well?  A well structured Google AdWords account that is managed by you and your Google AdWords account specialist will help you with all of the above.  Google AdWords allows you to post as many advertisements as you want.  For free!  Not only that, you can also set a price of your choosing on each advertisement.  As if it couldn't get any better, you can also put bids on specific keywords for each advertisement.  This will enable you to get better placement for those given keywords and your advertisement will be shown more often.
How it works
Google AdWords works by bidding for keywords and setting a daily budget for your advertisement.  When a user goes to Google and they make a search, it is said those words are the "keywords".  Essentially, whatever the user is going to search in order to find a particular service.  For example, if you were a hardware store, you may want to choose some keywords such as "local hardware store" or "hardware stores".  And if you wanted to promote a specific type of hardware such as a wrench, you may want to target words such as "wrench sales" or "wrenches".  Depending how broad your target audience is (the whole U.S.A. as oppose to a particular state for example) those keywords will be harder to get exposure for.  Google AdWords sells exposure by allowing you to place a bid on keywords for your advertisements.
Targeting a more local audience will be cheaper and get you more exposure at the beginning.  Then over time as you gain exposure and your advertisements gain momentum, they are valued higher in the Google AdWords process and will eventually become cheaper over time to get the same exposure.  Essentially the longer your advertisement runs and the better off it does, the more Google will show it and you won't have to pay such high prices to compete because you will be "the big dog".
Below is a screen shot of the dashboard when you log-in to your Google AdWords dashboard.  You can manage your campaigns, your advertisements in each campaign, the keywords within each campaign's advertisement, see statistics for clicks and budget usage, etc.  The dashboard is very in-depth and has a lot of different options and views for you to manage your advertisement campaigns effectively.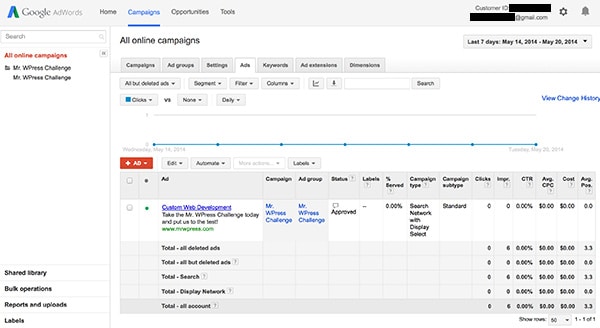 Getting started
When you first get started with Google AdWords it may be a bit confusing.  However, as you work through a couple of campaigns and build a few advertisements, you will quickly get the hang of it.  One great thing about Google AdWords is that no matter what your level of experience is with online advertising, they offer their professional advertisement developers for thirteen weeks as a courtesy to you.
At the end of that thirteen weeks you no longer get access to your own private account specialist, but you do get free support from the custom support hotline.  The key difference is the account specialists helps build the first one or two advertisements for you, then he/she helps you to manage them over time to get the best results.  The goal is to have you fully trained and able to manage your own advertisements and analytics.  At that time, all you will need is a little bit of support here and there.  So, no need for an ongoing specialist to "hold your hand".  This is a free service that Google AdWords offers just for being a customer.
Call a support specialist and get your Google AdWords advertisement going at 1-877-906-7955.
If you find that maintaining your advertisements or getting them going is something that you would rather us take care of, we would be more than happy to help as well.  Learn more about our AdWords services, and feel free to reach out for a free quote!