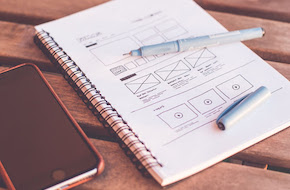 How UX Design and SEO are Interconnected
SEO, or search engine optimization, is all about making sure your website is valuable to visitors. UX design, similarly, is all about presenting a website in a way that makes it easy to use, effective to navigate, and meaningful to the visitor. As you can imagine, both feature different approaches to the same goal: giving the user the best experience possible.
While some think SEO is all about keywords and UX design is all about organizing web pages, it goes much further than that. When you explore the true tactics that make websites great, it's clear that UX design and SEO are connected in some very insightful ways. Here are three approaches to both elements of a website that can help you reach more visitors and make a greater impact while doing so.
Designing a Site That Visitors Can Easily Navigate
In eCommerce app development, it's crucial to ensure that users don't struggle to navigate your site and make a purchase. If they struggle to find things like product pages or checkout options, they're not likely to follow through with their order.
UX design is an obvious way to tackle this concern, but SEO plays a role in it as well. Keywords and simplicity in your text can truly help users find exactly what they're looking for without having to wonder if they're in the right place.
Plus, keywords do more than just get visitors to your website. Things like headers and phrases that users will search go a long way in actually helping them complete a purchase. Finding ways to highlight these key phrases can not only improve your SEO ranking but increase your UX design effectiveness by offering visitors a clear and direct path to buying what they're seeking.
Prioritize Loading Times
Let's face it: none of us are going to stick around to check out a website that's dragging on its load times. It's not even a matter of impatience so much as it is a sign that maybe a better option exists elsewhere. SEO and UX design can impact your website in ways that can decrease loading times to ensure visitors have a positive experience.
Utilizing high-quality images and eliminating multimedia that slows down a site can really help speed things up for your UX design purposes. Plus, SEO doesn't include just words and phrases in its ranking system. Google and other major search engines want to know your site loads quickly so it can tell users who search their sites that your website is an optimal choice.
SEO and UX Design Make an Impression
Lastly, let's talk about how to make an impression with your website. In eCommerce, two of the most crucial things that customers want from a website are easy-to-use sites and simple layouts to make their purchase.
You can spend lots of time wondering how to make yourself stand out from the competition. In reality, businesses that prioritize SEO and UX design find more success because those things matter a lot to the first impression you make with visitors. Start with these elements of a website, do them well, and the rest falls in line as you continue to grow your business.
Prioritizing UX Design and SEO Together
There's no denying the impact that good SEO practices can have on a website. Likewise, the impact that UX design makes in both a noticeable and visceral way can elongate the amount of time a user spends on your site.
With both elements of good web design playing such a vital role in your audience's experience, it's crucial to prioritize UX design and SEO as one approach to improving what you offer. Keeping both in mind, as well as the ways they're connected, can help simplify the way you view a site's effectiveness.