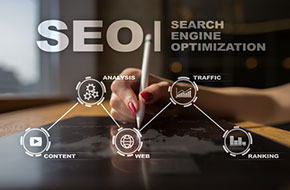 New Guide to Getting SEO Clients for Marketing Groups
Launching a new SEO agency involves a lot of work to transform it from a mere idea to a successful business serving many clients. This is a highly competitive industry with service providers around the world. Since everything is handled digitally, people who want optimization for their own sites and projects do not need to limit themselves to local providers. This can make getting attention more challenging. However, several strategies can help you generate leads and convert them to clients who help your business become a success.
How SEO Firms Can Attract Attention on Social Media
LinkedIn and Facebook are excellent platforms for marketing your SEO services. You can find potential clients and generate leads through these sites. LinkedIn is a great site for business-to-business networking, and Facebook offers opportunities to reach a large number of people.
When you create profiles on these and other social media platforms, include keywords that describe your services. You already understand the importance of proper keyword research and how to create content that gets attention. Use your skills to market your company effectively.
Always make sure that your website is listed on your LinkedIn and Facebook profiles. This will help potential clients find your website. You can also include links to articles or blog posts on your website that discuss SEO. Continuous updates and interaction with followers will make a better impression overall.
Get Involved With Online SEO Meetups and Events
Many great opportunities to get involved with online SEO meetups and events are available. These gatherings are a fantastic way to learn more about the latest optimization techniques and search engine algorithms, connect with others in the industry, and share your own experiences. They also offer a variety of webinars and meetings that can help you improve your marketing skills. 
Joining online SEO events helps you build an audience and learn from the best in the business. You can also demonstrate your expertise and attract attention for the services you offer. To do this effectively, prepare as if you were attending an industry convention or trade show. Create a pitch and go over various questions or comments that people may have so that you can share important information without sounding like you are advertising to them constantly. 
Remember that demonstrating your abilities is a much better marketing technique than yelling "Buy now!" through your microphone. Consider preparing a free e-book or report that you can hand out to participants or deliver through email to people who sign up for more information.
Hunt for Badly Optimized and Marketed Websites
Unfortunately, many business owners are unaware of how much value their website has and what they could be doing to increase that value. You can attract new SEO clients by finding poorly optimized or designed websites and contacting their owners to explain the situation and teach them about the benefits of the optimization services you provide
When it comes to marketing, some business owners think that their website is doing just fine even if traffic numbers are low. Many more simply do not understand how to boost the results and get the type of attention they need to profit and succeed. However, if their websites are not optimized for search engines, they are losing out on a lot of potential traffic and value. You can help them with that.
How do you find these poorly designed or optimized websites? It is as simple as plugging different keyword phrases into Google or another search engine and navigating to any pages after the third or fourth. Most searchers do not bother to click past page one, so they will never find the websites listed there. In fact, if the website is not in the top 100 results for appropriate target keywords, then the website is likely not optimized correctly.
As Digital Authority Partners notes, one effective way to get new SEO clients is to offer free audits to people with insufficient optimization or marketing reach. This allows you to demonstrate your skills and abilities and upsell to ongoing services or larger packages that bring in more revenue.
Use Your SEO Skills to Attract Business Leads
If you are an experienced SEO expert, you know how to optimize your website and services to attract business leads. Doing so helps you position yourself as a reliable authority in your industry and attract potential customers who are looking for your services. When done correctly, SEO can help improve your website's visibility and organic search rankings, which can result in more leads and conversions. If you are not able to do this, you may not be in the best place to offer these services to others. 
Consider adding a blog to your company's website. This gives you an endless opportunity to share optimized content, provide foundations for links back to your site, and give out valuable information for free to increase your brand reputation in the market.
Learn About Your Leads and Approach them Effectively
When it comes to sales, there is no room for guesswork. You need to know your leads well and understand how to approach them in order to be successful. Research is key. Learn about your leads' identities, contact preferences, social media habits, and email preferences. Only then can you craft a contact strategy that yields the best results.
Once you have that information, do not be afraid to reach out directly. Social media platforms are a great way to start building relationships with potential leads, but do not forget about email and other professional contacts as well. It is important to make the most of every opportunity to connect with potential buyers.
If you want to succeed as an SEO service provider, you can use the skills you acquired to provide the services for yourself as well. Optimize your own on-site and off-site content, use competitive keyword phrases, and seek out ways to connect with people who need extra help to market their businesses successfully.