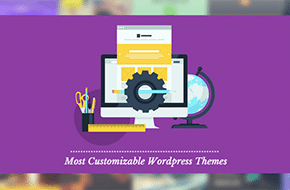 Yes, there is a difference between custom themes and customizable ones!
But which one is best for your website?
Yes! There is a difference between custom themes and customizable themes. A custom theme requires delving into the code and guts of a website. You need knowledge of several coding languages. Generally, at least HTML, PHP, and some JavaScript. The custom theme developer builds all the necessary functions, and lays out the pages to exact client specifications. A customizable theme, on the other hand, is essentially buying a template. When you buy a custom theme, you're purchasing the coding that somebody else has already done – like Salient or Divi. They make it customizable by offering featuers like a Page Builder, or other "page composing" options.
We won't lie to you – custom themes can cost a pretty penny. You have to shell out a lot less for a customizable theme, but we at Mr. WPress feel you should be aware of exactly what you're getting. (Just to clarify, at Mr. WPress, we build custom themes!) We'll start with the pros of customizable themes, then delve into the cons, so you can make an informed decision.
The pros of customizable themes are nice…
The main benefit is that there's no coding necessary. While customizable themes offer a small area in the settings where you can add your own CSS, this is really only for the finishing touches. These themes make it easy to create pages with all kinds of distinct areas (like sidebars) and layouts with no coding know how.
Even if you know code, these custom themes are simply easy to use. It's possible to alter the code, but why would you? These templates have gone through rigorous testing and updates to be as user friendly as possible. Options are plentiful, and the look of an entire site can be changed with a few clicks, as opposed to careful code hunting.
…but don't forget the cons
However, as is the nature of anything pre-built, there are built in limitations, too. Say you want to have a section of your page expand the whole screen, like on UpCart. If the developers of the theme didn't think to add that function, then there's not really any way to accomplish it. Even if you know coding languages, it's always a project to try to understand another developer's code hierarchy, let alone make changes to it. It's possible, but time consuming, and frustrating.
And if your favorite plugins aren't compatible, there's really no hope. As opposed to custom themes, customizable themes are somewhat notorious for causing conflicts with plugins, which add extra functionality to your site. Sometimes this isn't a big deal – if your caching plugin doesn't work in the theme, it's easy to find other ones. But if something like Shopify or WooCommerce doesn't blend, that can cause some massive problems. Part of good web security is keeping plugins updated, too. If your theme makes that difficult or impossible, your site could be at more risk too.
With this information, you can make your own decision. But at Mr. WPress, we recommend custom themes over customizable themes. They may cost more, but you're paying for a secure and compatible site that's uniquely tailored just for you. Feel free to reach out to us  if you have any questions, or you'd like a quote!