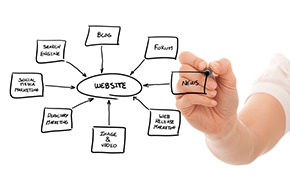 Don't jump head first into a new website!
Mr. WPress offers a second pair of eyes to help you plan
There's a ton of elements to consider when designing a WordPress website. Outside of the general look and feel, you also have to take into account functionality, plugins, SEO, optimization, and that's only to name a few! If you're outside of your comfort zone, hiring somebody to do some website consulting is never a bad idea. They can help you take into account things you may never have thought of, and save you heartache and long nights down the road. At Mr. WPress, website consulting is one of the services we offer. Website consulting is all about helping to assess the costs of any web project, and identifying any problematic bumps in the road before they even come up.
Website consulting helps you avoid nightmares and heartaches
One of a developer's worst nightmares is to realize they are 90% through the budget, and the website is only half done. Assessing the project thoroughly at the beginning, also called determining the scope, is a great preventative tool. This process will bring to light every bit of feature and functionality you're hoping for, and allow both you and the developer to agree on a timeline, price, and any other relevant information. Do this, and you'll have a plan to stay in budget and on time! Forego it, and the risk of running over budget skyrockets. Even if you don't take advantage of our website consulting services, we can't recommend laying out a road map beforehand enough.
What if I have my own web developer?
We trust your judgement with the quality of employees you hire, as we trust that you have a keen eye for budget and cost. However, a second pair of eyes never hurts!  An in-house web team has the risk of becoming too "zoomed in" on a project. This could mean potentially getting a bit removed from the ultimate goal, or over-focusing on certain issues without fully considering others. Mr. WPress consulting services offer a third party objective point of view, for a fresh outsider perspective. We just want to ensure that you're getting absolute the best website possible! We take into account all kinds of things from our wealth of experience. You can get a full breakdown of what we offer in our custom themes here, and know that we take all of those elements into consideration when we come to consult for you.