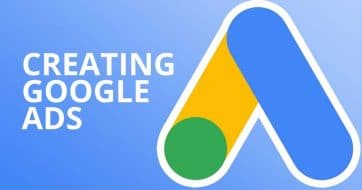 Creating Effective Google Ads – Part 3
Make your ad landing page irresistible!
You've got your head around the basics of Google Ads, and you've created your first campaigns to start attracting new customers. But where are these customers going? Oftentimes, first-time Google Ads users will direct their ads to their website homepage and hope for the best. But this can easily lead to confusion for your users, and unintentionally waste your hard-won bids. The best practice is to direct your ads to a carefully crafted landing page on your website, where your users will know exactly what to do!
Have Your Goal in Mind First
Before you even start designing or building, it's important to determine the goal of your landing page. The best goals are simple ones – like a particular action you want your users to take on the page. This could be a purchase, signing up for a free trial, subscribing to a newsletter, or any other action in a wide range of valuable conversions. When designing a page, it can be easy to become distracted by adding extra features or information, sometimes without even realizing it. And if you're confused about the goal of the page, then it's practically guaranteed your users will be confused too. It's important to keep your overarching goal in mind, and ask yourself if everything being added will help a user move further down the path towards that goal.
Keep Your User's Options Limited
This may seem similar to the above point, but it's worth repeating! Out of the wide range of possible goals for your page, we can't overstate how important it is to choose only one. Not purchase or free trial, only purchase or only free trial. Offering more than one call to action can lead to analysis paralysis, which in turn leads to a lost conversion. Simply put, the more decisions a customer has to make on your landing page, the more likely they are to choose none of them.
So on your landing page, be sure to only put information that encourages them to make the single conversion that you want them to take. For example, if you want your users to sign up for a free trial, don't even mention the actual price of the product yet. Their trial is free! And any knowledge about the purchase down the road has the risk to lead to confusion and indecision, which is exactly what you want to avoid. If your users truly want more information, they can head to the menus in your header or footer (although some people modify these menus on their landing pages, or even remove them altogether!). You don't want to hide information per se, only keep it off the ad landing page to avoid confusion. They can still find the information elsewhere on your site if they're willing to dig a little deeper.  The key is that you  get the contact/conversion.  Either so you can follow up directly and pitch them, or make a sale right there on the page.  Whichever your goal is, you have to "funnel" them into it.
As a side note, even outside of landing pages, this is a good general practice when designing web pages. Even for the homepage, having one clear call to action is often the best way to communicate with your users. Sometimes, this call to action can be to head to a different page to see more information! But when every page has a clear purpose and call to action, your users will feel much more confident in their decisions. Having a help wizard (chat module) that is available during business hours where customers can directly communicate with you can be a great tool to consider also.
Hone In On Your Benefits
They've clicked on your Google Ad, which means they're interested in your service or product. But they've only had their curiosity piqued, they likely don't know much about the key benefits or features. This is your chance to tell them! The common practice is to craft a value proposition or unique selling proposition – a single sentence that sums up what somebody gets when they decide to purchase from you. One of our clients, The Prairie Line, has a simple and effective one that you can see in our portfolio. WordPress itself has a good one too: "WordPress is open source software you can use to create a beautiful website, blog, or app." You don't need to have the creative resources or prowess to come up with the next "Just Do It" a la Nike – a clear and simple value proposition can be just as effective!
Once you have your leading sentence, it's time to support that proposition with copywriting. You can add a sub-header to your unique selling proposition if it needs a little immediate support, and then continue your support below. Sometimes a landing page can be just a single screen, and your supporting copy will come almost as a footnote. Sometimes your page will be longer, and you'll have several different sections to help organize and tailor your copy to convey the necessary information. But when writing, be sure to keep the initial value proposition in mind, and make sure your extra copy is supporting that initial headline. Your goal is to persuade your users to take that call to action you decided on earlier.
We recommend focusing on the benefits of your offering first – what the users will get when they decide to convert. Features, or the details of your offering, should come later, or take more of a supporting subtext role. For example, Mr. WPress offers unique websites that will act as an extension to your business (benefit) through our process of custom theme development and dedicated customer service (feature).
Show, Don't Just Tell!
So far, we have the copy about benefits and features supporting your prominent value proposition. But to support all of this copy, we need visual media! Images and videos are crucial pieces of your landing page, as they can help draw your users eyes down the page, and evoke emotions that keep them engaged and possibly convince them to convert. Images of people tend to be most effective, as your users will relate to the faces of others. But if you don't have any images of people that will work, it's still important to include images that relate to your offering. Just taking a quick glance through our portfolio can show you the importance of a prominent image that helps communicate what your website is all about, and evokes the emotions that will keep your users interested and engaged.
Validate Your Offering
This next step isn't absolutely necessary, but it can certainly help convince your users to convert. Validation is just an assurance that your service or product will actually provide everything you're saying it will. No matter how earnest you are, some of your users won't just take your word for it. If you've been featured in prominent publications or other media outlets, mention them on your landing page! If you have great reviews or testimonials, pick the gushiest ones and put them in a slider on your page. Show your users that they don't just have to take your word for it.
But what if you have a new product, or you're a startup company? Don't worry, there are still ways to offer validation. One option is the classic satisfaction guarantee. This shows users that you're willing to put your money where your mouth is, and offer refunds to anybody who isn't satisfied by your offering. Another option is to provide a clear and prominent means of communication. Live chat, links to your social media pages, or contact forms built right into the page show that you're not afraid to answer questions and that you'll always be available for support.
Test, Test, Test!
Once you've spent all this time crafting a landing page, it can be tempting to consider the project done, and just leave it alone. But much like going back to monitor your keyword bids in the Google Ads themselves, it's important to update and test your landing page too. Track your user's behavior through Google Analytics, or A/B test different elements to see what ends up offering the best conversion rate. As long as you're keeping track of the analytics, don't be afraid to change up the layout, the copy, the images, or any element of your page that might help encourage your users to convert.
A Quick Summary
If you made it to the end of this post, congratulations! That was a lot of information, and it can be overwhelming to keep all of these different elements in mind when developing your landing page. Here's quick summary for your reference:
Have a clear call to action, and limit your user's options as much as possible
Write copy about your benefits to convince your users to convert
Support your copy with compelling visual elements
Use reviews, testimonials, guarantees, and/or open communication to validate your offering
Test! Don't just set it and forget it
After all of these tips, here's our most important gem: don't give up! Creating an effective landing page is difficult, and an ever-changing process. And don't be afraid to reach out for help if you need it! Mr. WPress can help you create your landing page, develop a Google Ads testing strategy, and more! Reach out for a free quote today to find out how we can best help you earn those conversions.