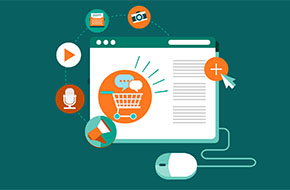 Choose the option best suited to your shopping experience
Each platform comes with benefits and limitations
During these times, a strong online presence has become all the more important. One crucial aspect of this is eCommerce, or the ability to shop online, especially as physical stores close, whether temporarily or for good. But this isn't the end of business – online sales are booming, and if you haven't tapped into that market yet, it's not too late. There are many eCommerce options to choose from, each with their own specialized benefits. You're certain to find one that fits your needs.
WooCommerce – A Solid, Customizable Foundation
One of the most common eCommerce platforms, due to its versatility, is WooCommerce. WooCommerce hooks into the solid foundation of WordPress, turning products, coupons, and even orders into a custom post type. The base of WooCommerce is free, though you're likely going to need some paid extensions before you land on your perfect setup. But much like WordPress, since WooCommerce is a prolific option, there's much support and community development on said plugins.
The Pros: Highly customizable, both through paid add ons and extensive developer documentation (WooCommerce has so many hooks it's hard to know where to start). A malleable foundation that can be molded to suit your needs.
The Cons: While the base version is free, even just a couple of extension subscriptions can make this the most expensive option on the list. Fighting the styles (colors, layout, etc.) of WooCommerce is not easy, and updates to the platform run the risk of compatibility issues both with extensions and deeper customizations.
Easy Digital Downloads – Specializing in Virtual Products
Not looking to sell actual physical products, but virtual and downloadable goods? Easy Digital Downloads is a solid route to take. While WooCommerce does have the option to make products downloadable, it's not quite so specialized as Easy Digital Downloads. If you have a mix of products, WooCommerce is more suited. But for digital products only, Easy Digital Downloads reduces the clutter and offers a more focused approach. Plus, it's a little easier to customize the look and feel of the shopping experience.
Easy Digital Downloads does come with extensions too, and if you'd like to offer recurring subscriptions or license keys, then they may be required. These extensions tend to be cheaper on average than the WooCommerce ones, but you can still end up paying more than you may have expected. With all the solutions on this list, think through the shopping experience you want to offer as far as you can, and then talk to an expert or web developer. They'll be able to help you put together a list of extensions you may need, and come up with the true budget in both software cost and set up.
MemberPress – For Subscriptions and Ongoing Plans
Maybe you're not selling products in the traditional sense at all. Maybe you want to charge for access to LearnDash courses, or special blog posts, or just access to your site at all. MemberPress allows for just that, with its powerful subscription and user management solution. The only "products" this plugin empowers you to sell are memberships, which are user roles configured with specific permissions that you decide. Still, it can be much easier to keep everything contained inside MemberPress than trying to integrate WooCommerce or Easy Digital Downloads into the process.
MemberPress is constantly on the grow, too. At first, they only offered integration with LearnDash, but recently they've started offering courses natively through the plugin. New features to improve the experience are frequent, and improve the value of the plugin. There are a few add ons, but unlike the platforms above, they're included in a paid plan of MemberPress (there's no base version for free, which may be something to consider).
Shopify – Integrating a Comprehensive Solution
Last on our list is Shopify, and while there are tons of merits to this extensive platform, it's integration with WordPress isn't the best. Shopify is designed to be a full-service solution. This means it doesn't just offer an online store for your website, but the entire website. Shopify works best when your site is hosted and built on Shopify through their tools. This can work if you're looking for something that's already templated out, and not too worried about adding beyond what Shopify offers later down the line.
But if you already have a WordPress site, unless you're willing to migrate to Shopify's services, it may be best to steer clear. The WordPress integration is very limited, basically only offering a checkout button. The button is extensive, bringing up a popup and styled nicely per Shopify's standards. But the rest of the features are up to you. Not only that, but you have to manage all products and other eCommerce settings through Shopify's platform on their site. And many external Shopify scripts are loaded on your WordPress site, causing potential conflicts and drops in loading speed. There's nothing wrong with Shopify as a platform, it just doesn't mesh perfectly with WordPress.
Need help choosing the best option for your business, or maybe looking to switch? Don't hesitate to reach out for a free quote! At Mr. WPress, we have years of experience putting together eCommerce websites for a wide variety of industries and businesses. There's a lot that goes into the process, sometimes more than people realize at the onset, and we'd be happy to walk you through it and provide you with the perfect shopping experience for your customers.