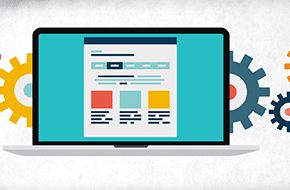 Showcase your products and services with sliders…
…and keep it simple everywhere else!
One of the new web design trends in 2017 is full page, high quality images. These can be expensive and time consuming to create. If you have more than one variation, it can be tempting to use a slider to showcase all of your assets. However, just a small time spent researching brings up strong emotions on both sides about the effectiveness of static images vs sliders. Some say it drives away sales, others say they only help. As with most things, the true answer lies somewhere in between. We'll explore the benefits of both, and when to use them, in today's edition of the Mr. WPress blog.
Static images vs sliders: when to use sliders
Sliders are best used when you have distinct things to show with it. If you have multiple variations on a single product, for example. A slider can be perfect for showcasing the difference between the home version and industrial version of a vacuum. Or if your company offers distinct services, a slider on the home page can help showcase them all in one place. One general tip is to put your most important information on the first slide, though, in case your users never see beyond it.
In our own suite of handpicked plugins, we talk about our use of the Master Slider plugin. There are others out there, but Master Slider offers tons of customization and adaptability. However, if you're using a customizable theme, some come with slider functionality built in. The popular Divi, for example, even has a full page slider for all of your glamor shot needs.
Static images everywhere else
Static images are best used basically everywhere else. While showing three different lifestyle shots of your product may be tempting, it just ends up being distracting for your users. If they all have to do with the same product or service, it can even be confusing and potentially drive away sales. In that case, the expensive hero shots aren't working for you anymore, but against you. Simplicity is your best bet, driving consumers through a beaten path to the checkout page.