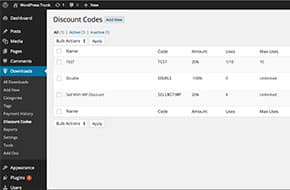 A more specialized eCommerce solution
Create a store of downloadable files
Choosing an eCommerce solution can seem daunting, especially if your needs are fairly specific. Another of our recommended plugins, WooCommerce, comes with a plethora of features for a varied and expansive store. But what if you just provide WordPress plugins online, or maybe you're selling ebooks where the file can be downloaded right away? While WoCommerce does come with the ability to offer downloadable products, that capability may get lost and cluttered among the myriad of other options. Whereas another of our most-used plugins focuses exclusively on these types of products, and is tailored to offer the best tools to sell these effectively. And that plugin is Easy Digital Downloads.
Offer a variety of downloadable products
Once you've got the free Easy Digital Downloads plugin downloaded and installed, the first option at the top of the dashboard menu is "Downloads." This is where all of your products live, and you can create your store starting here. When creating (or editing), you have the essential options like a name and description, of course. But when you get further down the page, the true power of the plugin becomes apparent. You can upload a file (or multiple files for packaged products) that the customer receives upon purchase. And you may have noticed, after uploading through this interface, the URL looks a little different from a typical WordPress media file. Easy Digital Downloads automatically puts product files in a protected folder, meaning that even if a user finds the file URL, they aren't able to access the goods without making an official purchase.
You can even set other important settings related to downloads, such as how many times a user is allowed to download the file after purchasing, as well as a shortcode to drop in a purchase button anywhere on your site.
Keep extensive customer logs
When a purchase is made, a user is automatically created on your site for the customer. This is for their own convenience as much as yours. If they ever lose the email with their download, all they have to do is log in to your site. They'll be directed to an automatically generated user dashboard, where they can see their purchase history and have access to all of the files they previously purchased. They can even store checkout information, making future purchases quick and easy.
On your side, this allows you to keep convenient records of customers and their orders. If a customer is complaining about not being able to access a file, you can take a quick look in your dashboard and ensure they're not trying to game the system. If they're legit, you can resend files using the security above, keeping your products properly protected. That's not to mention the detailed reporting, so you can easily view your site's performance and find top-performing products for your next sale.
Expand your capabilities with add ons
Like WooCommerce, the base version of Easy Digital Downloads is plenty extensive, but you can enhance your store even more with paid add ons. There's a wide selection to choose from on their website, but some of our favorites are:
All Access Pass – if you run a plugin store, maybe you want to offer a product that gives a customer access to every one of your products for a discounted price. You could create a new product with every file included, but this isn't best practice since you'll have to host and update files in two places. Or if you add any new products, you'll have to remember to include it in this master product too. But by creating an All Access Product, the customer will automatically get access to all downloads, both current and new. Management is made easy, and hassle-free.
Licenses – again, super useful if you're running a store selling plugins or themes. When you sell one of these products, you're not only selling the initial software. You're offering customer support, continued updates for security and compatibility, and potentially more. Licenses allow you to properly monetize these valuable assets, and prevent people from taking advantage of the system. Licenses allow you to confirm purchases for support, or even restrict how many instances of the license are allowed. You wouldn't want to support someone with ten sites for the same price as somebody with one, after all. It's ten times as much work!
Subscriptions – similar to Licenses, subscriptions allow you to create a renewing product to pay for your continued work and support. Subscriptions (as well as licenses) can be easily managed by your customers from their user dashboard. Plus, all license and subscription information is automatically associated with the corresponding customer in the admin dashboard as well. The subscriptions add on also allows you to offer free trials, renewal discounts, and more.
Per Product Emails – Not every product in your store is the same. Maybe there are additional instructions for some, or you want to convey extra thanks for a bigger purchase. With Per Product Emails, you're able to configure custom email messages for individual products that override the default email.
Build your store today!
Need help planning out your eCommerce store? Having trouble getting Easy Digital Downloads configured? Want an extra pair of hands setting up your site? Mr. WPress is here to help! One of our specialties is creating and optimizing eCommerce websites, and Easy Digital Downloads is one of our favorite tools. Reach out to us for a free quote today to find out how we can work together!