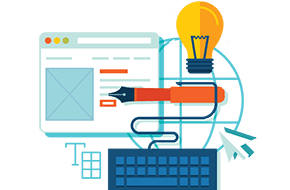 Lay out a plan to save time and money
All it takes is an outline, a design blueprint, and a developer!
Building new websites can seem like a daunting task. How do you get from absolutely nothing to a fully-functioning website? What are the steps involved? Fear not – at Mr. WPress, we have tons of experience creating websites from the ground up. As long as you lay out a proper plan, you can be confident about your future website. This comes with the added benefit of having a plan for your time and money, so you're not stressing about going over budget or over schedule.
Decide the hierarchy of building new websites first
The first step in building new websites is a simple one, and takes no experience with coding or design or much of anything. All you have to do is write out what you want the structure of your website to be. This includes the navigation menu, every page you want, and how all of those pages are linked together. With this laid out, you're able to give a clear layout to any designers and developers. They'll know exactly how many pages they need to design and code. It's also a great way to scour your own mind, and you may realize you want some pages you hadn't thought of. Don't forget to think through user interactions too – you may need a shopping cart for your website, a page for people to leave testimonials, or a page dedicated to your corporate partners.
Hire a designer to create a visual blueprint
Once your website wishlist is created, it's time to find a website designer who can bring that outline to life. A designer doesn't code the website, but they create an image of what it will look like in a program like PhotoShop or InDesign.  When a web developer sees that visual blueprint, it keeps development costs down because it gives them a clear picture of what you want. To limit the budget, it's even possible to just have one or two pages designed to give you or your developers a template to match for other pages.
If you need help picking a website designer, the Mr. WPress recommend pick is Justen from Visual Lure. Just check his testimonials page to get an idea of his quality of work! Be sure to look forward to our future post about how, when, and why to hire a website developer!