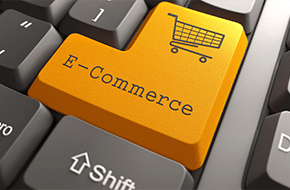 Find the best way to sell your products
Compare and contrast the top eCommerce solutions
In this modern online age, having a storefront online is a major benefit to your business. While going through a platform like Amazon is viable, it simply doesn't provide the same level of customization that a localized web store does. You want to be able to provide coupons and sales, drive your customers to related products, and more. Thankfully, it's likely you can find an eCommerce solution to fit your needs. In this blog post, we'll run through three of the top rated options to help you find what's best for your business.
eCommerce Solution #1: WooCommerce
WooCommerce is the ideal eCommerce solution for the WordPress user. It functions as a plugin, and good news – it's free! This platform has tons to offer in the free version too – unlimited product variations and attributes, product reviews, and much more. It's even fairly easily customizable through CSS. If you want to extend the functionality via things like product bundles, total Google Analytics integration, or something else, there are plugins for that as well. WooCommerce sponsors other companies that make these paid plugins, for a very reasonable price.
To summarize, WooCommerce is best for people with a functioning WordPress website. All you have to do is install the free plugin, add your products, and you're good to go!
eCommerce Solution #2: Wix
Wix is for people who only need a shop, not a full fledged website. The hosting is included in all of their plans, ranging from free to only about $25 per month, with four other plans in between. It's super easy to use – pick your template, drag and drop items for how you want your pages to look, then start adding products. Simple, easy, and clean. There is some upfront work, since almost everything is customizable. That means you have to take the time to go through the settings, but it also means that each site is unique. Their biggest drawback is the limit on product attributes. You can only distinguish product variations by size and color, which sometimes simply isn't enough.
In short, Wix is best for people who only want a shop for their website, and are willing to take the time to customize it.
eCommerce Solution #3: BigCommerce
BigCommerce is for, you guessed it, big companies who need big stores. Their plans include a customer database, built in reporting and tracking, and massive support for a large number of products. It's customization is a mix of WooCommerce and Wix, with some done through templates and some done through some deeper CSS code. BigCommerce integrates with literally hundreds of accounting, marketing, and inventory systems. It's easy to use as well, but they don't provide hosting like Wix, so you have to have your own website already. Their biggest drawback is the price. While you can get a free trial, there are no free plans. You have to jump in at $30 per month.
At the end of the day, BigCommerce is best for big business who need a big online store.
None of these seem to fit in your wheelhouse? There are many more eCommerce solutions on the market. To name a few other big ones, you can check out Shopify, Jimdo, and Magento. If you need any help with WordPress integration, be sure to reach out to us at Mr. WPress! We're happy to help.