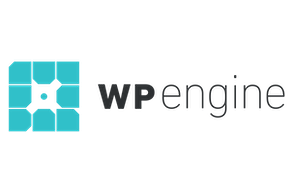 WP Engine Specializes in extensive, fully-managed WordPress hosting
They also offer start-up level shared hosting plans
At Mr. WPress, one of our top hosting recommendations is always WP Engine. Aside from their 24/7 customer support (which also reaches out proactively to solve issues before they become real issues), WP Engine has worked hard to provide one of the highest caliber hosting environments on the market. With proactive threat detection, automatic backups stored for as long as you'll need, SSL baked into all of their plans, and state-of-the-art data encryption for maximum security, you'll be hard-pressed to find a more secure place for your website. And that security doesn't come at the cost of performance, on the contrary, WP Engine is ranked as the fastest WordPress host available. If you're looking for a top-of-the-line, dedicated hosting plan, it's hard to beat WP Engine.
Stand-out Features
Let's face it, many hosting providers offer a lot of the same features. So why go the extra mile with a WP Engine plan? Aside from their premier support and performance, they also offer several other features that help them stand out from other hosting providers on the market:
WP Engine comes with three environments included by default: development, staging, production. Having staging included without any extra work on your end is already fantastic, as many other hosting providers require you to set it up yourself (or even have to pay extra for the additional site). But WP Engine even comes with a third environment dedicated to development, freeing up even more space for improving your website.
All plans comes with automatic, offsite backups. Plus you can take manual backups whenever you like. And most important of all, those backups can be restored at any time with just a few clicks in the WP Engine dashboard.
The WP Engine platform is specially optimized for WordPress. And it shows! In case you missed it in the opening paragraph, WP Engine is currently ranked as the fastest host on the market.
An SSL certificate is included by default for each site, which is just a nice quality of life feature. They even have options to upgrade to SSL certificates that cover a whole domain (including subdomains).
Part of the performane of WP Engine is due to the CDN, or Content Delivery Network, included for free on every plan. This ensures the assets on your website are loaded quickly and securely around the globe.
To top it all off, if you're not satisfied with their services, they offer a 60 day money back guarantee. That's twice as long as the typical guarantee you'll see, and just speaks to their confidence in their platform.
Unrivaled Support
No matter the quality of the host, errors happen on your website. We like to think our systems should run perfectly, but there are a lot of moving parts, and glitches are bound to happen. When they do, you can rest assured that the WP Engine support team is ready to help. Mr. WPress has had first-hand experience with their customer support team, and we can't speak highly enough of their response time, general knowledge (no passing your issue along to somebody who might know more), and willingness to go the extra mile to ensure your site is set up for success. Even when you're not reaching out yourself, WP Engine has plenty of monitoring systems to let you know when it's time to run an update, fix an error, or anything else to proactively keep your site running smoothly.
Next Level Upgrades
We all consider WP Engine one of the most comprehensive hosting plans on the market by default, but they even offer additional features to take your site to the next level:
Their Global Edge Security goes beyond the standard server-side security by pairing with Cloudflare and Argo Smart Routing for a combination of proactive threat protection and reactive solutions for if an attacker actually does come knocking.
WP Engine offers Application Performance Monitoring through New Relic, which offers a comprehensive view (down to the code level) of your site's performance. Tools like GTMetrix are great for a one-time snapshot, but APM allows you to see the real-time, ongoing status of your site.
Their smart plugin manager will run updates for the plugins on your site as soon as their available, minimizing any potential vulnerability windows. And if anything on the site breaks, the manager has built-in visual regression testing to alert you and them so you can take steps to address the issue.
WP Engine's optimized DevKit makes them an easy choice for tech-savvy website developers just as much as those looking for a more hands-off approach. We won't go into all the technical details, but their suite of features in the DevKit is just as extensive as their hosting platform.
Need more information before making a new decision for your host, or want some help creating your new website on WP Engine? Don't hestiate to reach out to us for a free quote today!