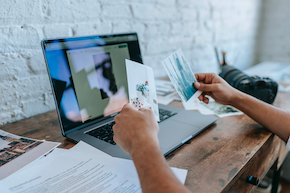 In today's digital age, it is essential to keep your website up-to-date. Not only will this help you stay competitive in the marketplace, but it will also ensure that customers have a great experience when interacting with your business online. Here are some tips and tricks from Mr. WPress on how to make sure your website is up-to-date and running smoothly.
Make It Mobile-Friendly
It is essential to make sure that your website can be accessed from any device, including smartphones. This will ensure that customers can access your website no matter where they are, which will help increase traffic and sales. A good rule of thumb is to use a responsive design so that the layout of your website automatically adjusts to fit the size of any device.
Maintain Fresh Content on Your Website
To keep customers engaged with your business, it is important to regularly update your website with fresh content such as blog posts, pictures, videos, etc. Doing so will ensure that visitors have something new and interesting to look at every time they visit your site. Additionally, fresh content can help boost SEO rankings and drive more traffic to your website.
Improve Your Website's Integration of Online Payment Processing
Having an online payment processing system integrated into your website makes it easier for customers to purchase products or services quickly. This streamlines the buying process, allowing customers to make purchases in a matter of minutes rather than having to leave their homes or offices. As a result, it can lead to increased sales and customer satisfaction over time.
Hire a Web Professional
Having a website for your business can be an invaluable asset. If you need help making changes or updates, connect with Mr. WPress. A web designer has the expertise and experience to create a professional-looking, user-friendly website. They can implement modern design techniques, such as responsive design and mobile optimization, in order to optimize your site for visitors on different devices.
Learn About Coding to Make Your Own Website Updates
Learning coding skills can be advantageous. It allows you to modify your website without relying on experts while giving you complete control over the features and design of your web project. You can stay ahead of the competition by brushing up on HTML/CSS/JavaScript and making changes as needed to keep your customers happy. Click here to learn more about coding and troubleshooting.
Get Legit with an LLC
Forming an LLC will add an extra layer of legitimacy to your business. It also protects you from potential legal complications arising from activities tied to your company. If you're looking for a reliable foundation for the start of a business venture, learn about the steps necessary to start an LLC.
Next, it's time to get the word out! As you're advertising your new business over social media platforms, you'll probably occasionally run into situations that call for a different file format, but you can make it easier on yourself by taking advantage of free online tools. For instance, if you need to convert a PDF to a JPG, you can try this tool and get the job done in seconds!
Keeping up with web-based updates is essential for any business looking to stay competitive in today's digital world. Connecting with web designers when needed, making your site mobile-friendly, and allowing for online payments are just a few things you can do to optimize your website. Always make sure to stay current with the latest trends and technologies to stay ahead of the competition.
Mr. WPress is here to help you with your web development! Reach out today for a free quote.