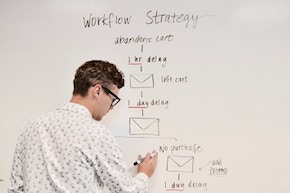 Keep your customers engaged with a follow-up sequence
Marketing doesn't end when a sale is made!
It can be easy to think, after you've carefully crafted your eCommerce conversion funnel, that the work is done. You can sit back, relax, and let the sales roll in. But marketing doesn't end with the conversion! It's common business knowledge that it's magnitudes harder to make a sale to a new customer as opposed to keeping an existing one. Thankfully, after an eCommerce sale, you have a direct line to your customer's email inbox. This is a prime opportunity to keep the lines of communication open, keeping your customers supported, satisfied with their purchase, and happy to support your business in turn.
Provide answers to common questions
For your first email in the follow-up sequence, you want to answer the question: "what next?" Oftentimes, this can be included right in the eCommerce receipt to ensure the customer sees it. You can quickly make your customers feel satisfied with their purchase by providing as many helpful resources as possible. Documentation, video tutorials, or even a link to the contact form all are great ways to ensure your customers know how to make the most of their purchase, and get value from their new relationship with you.
Connect customers to a community
Another great way to provide value is to connect your customers with some kind of community. Your company's social media platforms are an easy way to offer this. Don't be too pushy about getting them to tick off all the important metrics, but instead present it like a connection and another place to find answers to their questions. If they see the value, they'll follow and engage without you having to ask them to do it. But even if you don't have socials, that doesn't mean you should neglect this step. Showcasing in-depth reviews or pictures from real people are a great way inspire some aspiration in your customers, and let them know they're not the only ones who made the same purchase. They're part of something bigger!
Tempt customers back
With the welcome complete, it's time to leave some breathing room. An occasional update or other news is ok, but don't start bombarding them with coupons or requests for reviews right out of the gate. Give your customers some time to sit with their purchase, use the product or service, and realize the value in it. Once a good amount of time has passed (the exact amount will vary depending on the nature of their purchase), then tap back into that open line of communication. Check up on your customers, and see if they need any additional help. Invite them to leave a review or post on your social accounts. Provide coupons for loyal returning customers, if applicable. In short: reengage them!
Use your tools for smart automation
So when exactly is the right time for all of these follow up sequence steps? The exact answer can vary by the industry, and even different niches and audiences within that industry. If your email service provider offers it, it's best to fire these emails based on key metrics rather than a set timeframe. Has a customer left the last two newsletters unopened? Send a more enticing re-engagement campaign. Is another customer continually active on your website, especially in the documentation section? Reach out to them with additional resources that might not be readily available. Somebody else is active on your social posts? Ask them to leave a review. With the right automation, you can provide individualized follow-up sequences that give your customers exactly what they need in the moment, further boosting that sense of satisfaction and community.
Need help crafting a follow-up sequence, or just setting up your eCommerce website in general? Don't hesitate to reach out to us for a free quote. We'd be delighted to play a role in the success of your online business!