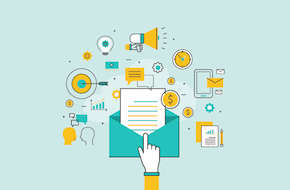 Connect with your customers using email
Send a variety of helpful reminders and offers
It's easy to think you've lost your users after they've navigated away from your website. But emails are a great tool to keep talking to your customers long after their initial visit. Instead of relying on them to keep coming back to your website for news and updates, you'll be able to communicate with them directly in their inbox! Learn about the different variety of emails in this blog post, and how you can use email marketing to connect with your audience.
Order Receipts and Shipping Confirmations
These are the emails that usually send automatically after a customer places an order, and when their items ship. Oftentimes these emails are overlooked or deemed unimportant, but it's important to keep in mind that these are generally your first impressions in a user's inbox. Customers may be expecting clunky, basic emails – so think how easy it could be to impress them with a little design or flair. Provide the crucial information clearly, in a stylized fashion, and you don't have to worry about your first impression.
Another email to consider is a sort of "Getting Started" email, that provides your customers with the resources they'll need to get the most out of their purchase. These could take the form of blog posts, YouTube videos, or a custom page on your website that gives more details. Take that extra step to show your customers you care by providing them with everything they need to succeed.
Abandoned Cart Emails
Once you've got your essential logistical emails looking good, we recommend putting the initial bulk of your effort into abandoned cart emails. These are reminder emails that send to people who added something to their cart, but left your site before completing the purchase. These emails are great for closing deals you might have lost if you just let them go. With a little extra time to consider the purchase, or maybe by throwing in a small discount or freebie, you never know what a little reminder can do. This is also a great place to cover features or benefits of your product or service that you couldn't find a place for on the website, or that are lower down on the page. Those extra tidbits might be just what was needed to close the deal.
Purchase Follow-Up Emails
No, these aren't the same as order confirmation emails. This is a correspondence that comes much later, after your customers have had time to explore your product or service in-depth. Oftentimes these come with a call to review their purchase or to cross-sell related products that your customers might also be interested in. But even if you're not looking to make so direct gains, it's still worthwhile to keep in contact with your customers. Remind them of your customer support policies, and just provide a gentle reminder that you have their best interest in mind. The best customers are happy customers!
"Welcome to Our List" Emails
Up until this point the emails have all had to do with eCommerce, but that's certainly not the only use for emails. Having a signup form on your website is a great way to build your list of contacts for one-off deals and newsletters (coming up next), but you want to affirm your user's decision to join your list. Sending a confirmation email is the first thing, but like the order receipt emails, it's easy to impress your users here. Be welcoming, positive, excited, and add a little style to your emails. Show your users you're not just pitching them, but that you're trying to build a relationship.
After the initial signup confirmation, it's also a great opportunity to give your users more information about your website or business. Provide the story of how you got started, what influenced your mission statement, success stories or case studies, or anything you feel will help your customers feel like they're dealing with a person instead of an inanimate website. When you're not selling all the time, it makes your actual sales that much more trustworthy and exciting.
Newsletters and Special Offers
The last email on our list, and the one that gets the most flak in general, are the specials offers and newsletters. These are one-off emails that provide a limited-time discount or other exclusive information. When people think of emails cluttering their inbox, these are usually the emails that come to mind. But there are still ways to stand out! Instead of hitting your audience over the head with your offer, you can provide helpful information along with your ideal. Include links to blog posts, videos, and other information to help your users.
Overall – the idea is to connect with your users and customers! Let them know they're not getting an email from a faceless company, but an actual person who wants to solve their problems and provide them useful information. Need some help getting started with an email marketing plan, or honing your emails to be more effective? Don't hesitate to reach out to us at Mr. WPress and request a free quote!