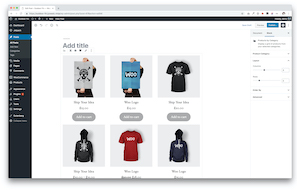 Explore the Different Kinds of WooCommerce Products
There are more than you might think!
We've provided a crash course on the WooCommerce plugin before, going through how to set up your online store and add products. But products are a pretty extensive custom post type, with many different settings and attributes you can configure to meet your needs. It can be somewhat overwhelming at first, so we've provided a breakdown of the main WooCommerce product types, and where they fit best in your eCommerce roadmap.
Simple and its options
"Simple products" is the default option, and don't let the name fool you, there's plenty of flexibility and options in this first product option. It provides a showcase for all of the features of WooCommerce products, like:
Settings to mark the product as "virtual" or "downloadable." Virtual means there's no physical product to ship – this is handy for memberships, preorders, or donations as a few examples. Downloadable still doesn't have any physical products, but does allow you provide files, which is great for ebooks or video access.
Whether a product is physical or not, you can manage inventory and keep track of stock on a per-item basis. You can set the available quantity, and every purchase will appropriately update the number in the backend. You can configure it to send you an alert when a certain stock threshold is reached, and allow backorders as well if you'd like.
You can configure a variety of attributes to display on the frontend without cluttering up the sales section of the page. Want to mention available colors, SKU, or other important information that doesn't fit into marketing? Unlimited attributes make it easy.
In the Advanced section, you can add a unique purchase note on a per-product basis for a specific "thank you" message or provide instructions for virtual products.
You can set either related products or an upgrade path, to put alternative options or upsells in front of your customers.
Variable
Attributes are available in the simple products as described above, but choosing to make your product variable can take this to the next level. If you choose to make your product a variable product, each attribute will have the option to "use for variations." You'll find a new tab in your product information with just such a name, which will allow you to create essentially a mini-product inside of the parent.
This is commonly used for clothing, where there are different sizes and colors of any given design, but there are plenty of other uses cases. Regardless of your use, a product variation has its own price, sale price, description, image, stock management, and more. Want to run a coupon for XL shirts only? You can with variations. Want to add an example image for every different material of a journal? Variations let you do this in an organized and orderly fashion.
Grouped
Have two products that need to go together, or maybe just want to offer a discount for a big bundle? Grouped products make it all possible! While a grouped product does have its own price, it's made up at least two other products that already exist in WooCommerce. You can allow customers to choose how many of each they want (within a minimum and maximum limit, if necessary) or set the quantity yourself. Grouped products make it easy to lead your customers down the right path for satisfaction.
External
Want to sell a product that you don't actually have? Maybe you're an affiliate on Amazon, or just have a partnership with another company. External products allow you to set a link, and instead of the typical WooCommerce checkout process, the "Add to Cart" button will just go to that provided link. This can be an information page if you think the customer will need more information, or it can a link customized to take them right to the cart of another site with the product already there.
Use add ons for even more options
Up to this point, every option is included by default in the base version of WooCommerce. But one of the main selling points of WooCommerce is the ability to customize and extend your store with a multitude of add ons. And a wide variety of these focus on extending the capabilities of the product custom post type.
Product Bundles take Grouped Products to the next level, allowing a deeper level of control and customization.
An integration with LearnDash allows you to sell access to courses as a product.
Product Add Ons allows you to include little bonuses or virtual coupons without having to create them as a separate product.
Need help setting up your store, or just knowing what products will work best for you needs? Don't hestitate to reach out to us for a free quote!