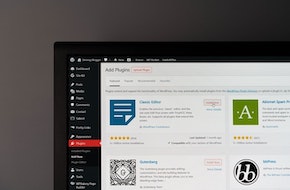 The Pros and Cons of Our Preferred Page Builders
Compare the options
We've discussed the difference between custom themes and customizable themes before, and even though we're strong advocates of uniquely crafted custom themes, sometimes something that's only customizable makes more sense. Maybe you want to be able to make frequent changes without relying on a developer, for instance. While you lose out on the totally custom features and improved performance, you may consider it worth the price in the balance.
At Mr. WPress, we've been doing web development long enough to have a plethora of experience with a variety of page builders. When we do work with clients who request customizable themes, there are a few builders we typically recommend. Check out the list below to get a developer's perspective on the pros and cons of some of the bigger page builders!
Elementor
Elementor is one of the most popular page builders around, and for good reason. It's about the easiest page builder to use, with an extensive visual builder that makes it easy to tweak the look of your site down to the pixel with just a few clicks. The technical knowledge needed to get started is super low, with (usually) clearly labelled settings and a drag and drop interface. But if you have a little more savvy, you can tap into powerful features like the Theme Builder, Site Settings, and templates of Elementor Pro. Being as big as they are, there are also a plethora of third-party add ons to choose from, and solid customer support.
However, one drawback to an exclusively visual builder is the weight it adds to the code. Elementor can be heavy, both on the frontend for page loading and while editing in the backend. While most options are clear as to what they do, it's not always clear where they are in the first place, and can vary in location between different elements. We mentioned the templates available, both official and third party, but the range of quality prebuilt sites or themes is more scarce.
Avada
Where Elementor struggles to offer quality prebuilt sites, Avada thrives. The platform is built around its ability to host a wide variety of themes in the builder's online marketplace. These themes often come with extensive customization options as well, where a single change in the settings can change the color, font, or feel of the entire site. Avada also comes with a Global Template functionality, where you can create a custom layout in one place and have it dynamically populated in various locations throughout the site.
One of the drawbacks of Avada is that it often relies on additional plugins for some of its features, especially sliders. While the base package is fairly lightweight for a page builder, adding custom features can quickly cause the site to bloat. And while the prebuilt nature of Avada themes is nice, it can be a chore to replicate the intricate settings put together by the designer if you want to make your own custom section that still fits with the rest of your site.
Divi
One of the big names that's somewhat fallen from the limelight is Divi. Divi used to be the big name, but has since been somewhat edged out by Elementor. Yet its legacy remains strong, and it remains one of the more popular page builders on the market. This comes with the benefit of an expansive catalog of prebuilt options: themes, page templates, and even single sections or effects that are easy to implement on your own site. Divi is also one of the few solutions that allow you to run AB tests right inside its own system, which is a reason to consider Divi in and of itself.
The main drawback of Divi is its weight in code. It's heavy, even heavier than Elementor, with both a backend and frontend editor. You'll likely notice the impact Divi has on even a fairly simple site. And while there is a decent selection of elements to choose from, the settings to customize larger aspects of these elements feel strangely limited beyond simple things like colors and text sizes.
WP Bakery
Likely the most humble option on our list, but still a solid consideration. WP Bakery is essentially the jack of all trades here, taking a little bit of something from each page builder. It comes with both a frontend and backend editor, but doesn't get bogged down as much as Divi or even Elementor because it keeps these interfaces simple and clean. You can also create templates like Avada's speciality, and make them global so they're the same across every location. But they aren't all managed in one place, and have to be imported into every location you want. It's got a decent selection of both prebuilt themes and sections alike, though it's hard to beat the extensive Avada library.
However, WP Bakery comes with its own suite of drawbacks as well. Many elements in WP Bakery tend to require you to add things one at a time. The main example that stands out is galleries: in Elementor and Avada, you can bulk upload using the media library built into WordPress and quickly create a large gallery. But with several WP Bakery elements, you have to add each individual image in its own individual child element. And unlike Avada, the options to customize any given element tend to vary in location and what exactly they affect.
Need help choosing the perfect visual builder for your site, or want to take the next step and have a unique theme built just for you? Don't hesitate to reach out to us for a free quote! At Mr. WPress, we have years of experience with a variety of development tools, and we'd be delighted to help you bring your site to life.