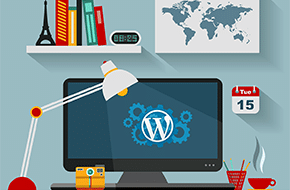 How does a custom theme help a website stand out?
Find out what makes a custom theme truly unique
We've discussed the benefits of custom theme development in our blog before, but in today's blog post, we're going to look at the guts of what Mr. WPress offers for our custom themes. It's good to know what you're getting in a custom theme, and exactly how it will make your website stand out. There's lots of elements to cover, so let's dive right in!
Custom Sidebars
Sidebars, in their most common form, are vertical columns that are packed with information and resources. Oftentimes, you'll find these sidebars on blog pages, where they'll have archives, tags, and possibly contact information. In fact, just look to your right! The information you see on the Mr. WPress blog, with the "Search" and "Contact Us" information, is a sidebar in action.
However, in custom theme development, a sidebar can be so much more. Sidebars don't have to be restricted to narrow vertical columns – they can be entire sections that span the whole width of a page. A common sidebar we use at Mr. WPress is for a client testimonials section. If a client wants a little testimonials area to appear on every page, we accomplish that by putting it in a unique sidebar that appears on every page. Then, when the client wants a change in the testimonials section, they only have to change the sidebar instead of editing every single page. Customizable, and handy too!
Custom Post Types
By default, WordPress only comes with one post type – the blog post. But at Mr. WPress, we can create any number of custom post types to help keep your website organized. Maybe you're a photographer who wants to have a different (and differently styled) feed for their art, or a shop that's always releasing new and updated products. Custom post types keep that information separate from the blog, but still easy to organize and access since they're in their own unique section.
Custom Menus
Standard WordPress websites have just one menu, listing all the pages, up at the top. With custom theme development, we can develop custom menus that only show the pages you want them to. On top of that, we can place as many as you want in as many different spots as you want. Oftentimes it's best to stop at one or two, but sometimes a site simply need more! And default WordPress themes just don't offer that functionality.
Customized Plugins
Plugins are the way WordPress adds extra functionality to your website. These can be image sliders, maps, or even security features in the back end. By default, WordPress doesn't come in with any plugins. But we've handpicked a few to use right out of the gate to help ensure your site stays optimized and secure. On top of that, we can develop custom plugins to fill the exact functionality you need. You tell us what you want, and we can build it. Easy as that!