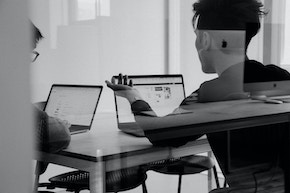 If you've been growing your WooCommerce or other eCommerce store for a while, it may be time to consider expanding your reach. SEO and paid marketing are always viable options, but one of the most powerful ways to drive conversions is through word of mouth. You can encourage this tried and true method through affiliate marketing, incentivizing others to help you make sales. WooCommerce in particular makes it easy to add this handy functionality, with a variety of add-ons and WordPress plugins available on the market that make it easy to set up and manage your vision for an affiliate marketing program.
What is affiliate marketing?
Affiliate marketing is essentially offering your customers or those with an online platform (review bloggers, influencers, etc.) an incentive to encourage others to make purchases on your website. This is done by providing each affiliate with a unique link to your website, and when somebody else clicks that link, any visit or purchase resulting from that initial entry point is attributed to your affiliate. Thankfully, you don't need to worry about the technical side of this, as the best affiliate marketing plugins all take care of this behind the scenes for you.
The actual incentives and finer details will vary depending on the site, so if you're interested in adding an affiliate program, it's worth taking some time to consider what your layout will look like. Do you reward referrals with a portion of the sales, or a discount on your product? Does the referral purchase need to happen right away, or within a week, or is there no time restriction? The more generous and lenient your terms, the more likely an affiliate is to put in the effort to earn referrals. But you don't want it to be unsustainable.
Now that we've established what affiliate marketing is, let's take a look at some of the tools available on the market.
Affiliate WP: The most expansive big-name plugin
Affiliate WP tends to top "best affiliate marketing plugin" lists, and for good reason. When it comes to feature sets, they offer one of the most expansive and intuitive toolkits available. We'll use Affiliate WP as our "bar" for feature sets, to give you an idea of what's available and hopefully help you decide if there are any "must-have" features when evaluating your option for affiliate marketing plugins.
Seamless, one-click integration with WooCommerce (and other plugins, as well). This plugin is developed by the team who make other popular plugins like WPForms, so they have a solid track record of plugin performance, updates, and support

Advanced affiliate tracking: beyond the standard affiliate links, you can also track through coupon codes, unique landing pages, and even cross-domain tracking

An affiliate management dashboard built into your WordPress site's admin dashboard, allowing you to easily manage affiliate links, make payouts for referrals, provide creative assets to your affiliates, and view stats in a simple "one-stop-shop"

Customizable portals for your affiliates, so they can see their own progress and earnings with easy access to any assets or other resources you want to provide. You can even run contests or email marketing campaigns right through Affiliate WP to encourage more referrals

Extensive, customizable rulesets for how commissions are calculated, including built-in fraud detection
This all comes at a price, of course. Affiliate WP is also at the top of the "most expensive affiliate marketing plugins" list, generally coming in at $150 per year. Some of the more complex features are only available in their more expensive plans, too. If you're looking for a simpler starting point and don't mind missing out on some more luxurious features, you may want to consider a different affiliate marketing plugin.
WP Affiliate Manager: Generous free features
Next on our list of the best WooCommerce affiliate marketing plugins is WP Affiliate Manager, which comes with a generous free plan. If you're not ready to commit to a more expensive option like Affiliate WP, then WP Affiliate Manager could be a great starting point to dip your toes in the water and see if affiliate marketing will be a viable strategy for your WooCommerce site in the long term. And if you do want to upgrade, the license for updates and support is only $39 per year for a single site.
The biggest con with WP Affiliate Manager is the somewhat dated appearance and feature set. There have even been reports of affiliate portals and dashboards breaking for some users and affiliates, or even not working at all. This plugin is not as widely compatible as the more expensive options (though it does integrate with WooCommerce), and doesn't offer the same kind of luxuries like easily-customizable affiliate portals or tools to create individual landing pages. But if you want to test out an affiliate program, this could be the solution for your WooCommerce site. 
Easy Affiliate: A less expensive option
Willing to pay for an affiliate marketing plugin, but don't need something so extensive as Affiliate WP? Easy Affiliate may be the best fit for your WooCommerce site. Their feature set is similar to Affiliate WP, just missing some of the extra bells and whistles. For instance, while they integrate with email marketing platforms like MailChimp or ActiveCampaign, their built-in tools aren't as extensive. Take a look at their feature set, and if they're not missing any "must-have" features offered by a bigger name plugin, then you can lower your bottom line with their $100 per year basic plan, saving 33% over Affiliate WP. 
This plugin is by the same company that makes a popular plugin for affiliates themselves, called Pretty Links. You can certainly offer this plugin as a quality-of-life feature for their own sites no matter what affiliate plugin your own site uses, but there's some added weight to the recommendation if you're using a plugin by the same company. The same company also makes the popular MemberPress plugin, and while Easy Affiliate integrates with WooCommerce, it also offers seamless integration with the MemberPress membership plugin if you're running a different kind of eCommerce website that includes memberships.
Ultimate Affiliate Pro: Extended features with a one-time cost
Don't like the idea of having to pay a yearly license fee at all, but the free plans of the affiliate marketing plugins don't offer enough for you? Ultimate Affiliate Pro, with its one-time purchase, may be for you. There are recurring licensing options for support from the creator, but it's not required to continue using the plugin after the initial purchase. 
And you're not losing out on much at all, either. Ultimate Affiliate Pro is the #1 affiliate marketing plugin on the Envato Market, with a feature set on par with many of the bigger names. And if you can't find the exact feature you're looking for, there are more than 40 add-ons to the base plugin you can use to expand the capabilities. 
Ultimate Affiliate Pro integrates with WooCommerce, Easy Digital Downloads, as well as directly with Stripe and PayPal if you want to go straight to the payment source.
Bonus: Track affiliate data in Google Analytics with MonsterInsights
Having the affiliate data on your WordPress dashboard is certainly nice, but what if you want to keep all of your website data in one place, like Google Analytics? This can be handy for tracking affiliate sales as a percentage of total sales, seeing the behavior before conversions of affiliates in particular, and other more in-depth insights. This type of attribution can be complex to add manually, but the MonsterInsights plugin makes it easy to send your affiliate data to Google Analytics. Data-driven decisions are always better than gut feelings and guesses, and you can evaluate the true value of an affiliate program within the context of your entire site easily with Google Analytics and MonsterInsights.
However, keep in mind that Google Analytics won't have quite as specific data in regard to referrals and commissions. Gauging revenue after accounting for referral payouts will still take some cross-referencing. There are other affiliate-specific data points you'll need to get from the affiliate reports themselves, like how well any specific affiliate is performing. So don't rely on Google Analytics in place of in-depth affiliate reports in your plugin choice. The Google Analytics integration is a bonus, but not a replacement for quality reporting features in your affiliate marketing solution.
Take your WooCommerce business to the next level
Like paid marketing and SEO, setting up an effective program takes time and thought. You have to decide on your commission structure, the resources to provide to your affiliates, the logistics for paying them, and more. But the best affiliate marketing plugins make it easy to bring your vision to life, and support you in the day-to-day running of the program as well. Don't hesitate to start harnessing the conversion power of word of mouth with an affiliate marketing program. It can be one of the most effective ways to raise your conversion rate in WooCommerce and beyond.