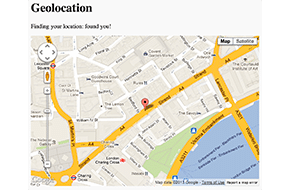 A Google Geolocation API helps you connect with your users in real time
So what exactly is geolocation, anyway?
Geolocation is the identification or estimation of the real world geographic location of an object such as your smartphone. Geolocation uses geographic coordinates, and often uses radio frequency location methods for precision. When a GPS signal is unavailable, geolocation apps can even use information from cell towers to triangulate the approximate position. Social media utilizes the same technology to inform friends where you are in town, or where you check in to restaurants clubs, etc. A Google Geolocation API can even find places recommended by people you know.
The benefits of a Google Geolocation API
When you ask Google where the nearest gas station is, it asks to use your location. Google is using its geolocation tools to find where you are and the closest gas station to your location. This is but one brief example of this feature's capabilities. In regards to your users, Geolocation helps you as much as it helps them. Generally, you'll have access to your user's location when they ping the Geolocation API. This allows you to track where you're most popular, and may help narrow down your marketing efforts. For your users, the API provides real time directions from wherever they are, and can even show them any recommendations or partners you have in their immediate area.
Integrate an API today!
At Mr. WPress, we offer Google Geolocation API integration with any website. Feel free to reach to us with any questions, or get an introduction to the API from Google themselves.
However, these last three spotlights are just a small sampling of all the different kinds of APIs available. Google offers a whole suite of them, and Google isn't even the only one who makes and offers these programs. At Mr. WPress, we're equipped and ready to help you integrate Google Maps, Calendars, and Geolocation into your custom website. With Google Maps, your users will know exactly where to find you, and even what's nearby. With Calendars, both you and your users will enjoy top of the line organizational benefits. They're practically guaranteed to be notified of any events you host! And with Geolocation, you can connect with your users wherever they happen to be. They'll get precise directions with many options, while you can hone your marketing efforts to a fine point. Be sure you don't miss out on the benefits of integrating!