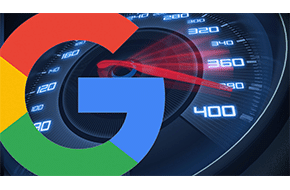 Get your site faster to make sure it ranks
Slow sites may be left off from user searches
Prepare your websites – in July 2018, the Google speed update will hit the popular engine's mobile searches! What does that mean? Essentially, sites Google deems are too slow on mobile will take a hit in the search engine ranking algorithm. According to Google, sites with the best, most relevant content to a search query will still rank even if they're slow. But they may not rank as high, especially on searches that don't directly relate to the content on the site. Page speed has already been a ranking factor for desktops since 2010. However, this is the first algorithm change by Google for page speed regarding mobile sites.
The benefits of improving site speed
Even aside from ranking well in Google, there are significant benefits to having a site that always runs fast. If a site takes longer than three seconds to load on mobile, most people will give up. That means they never even see the good content and copy you put so much work into. This is especially important a site that uses multiple pages, like an e-commerce site. If a user runs into a 3 second or more wait every time they want to move forward in the process, they're much more likely to give up. That means you lose a sale!
Need more convincing, or some concrete steps to improve your site's loading time? Check out our past blog post on the subject. The Mr. WPress website scores a perfect 100 on the Google PageSpeed Insights tool – if we can get there with our site, we can help you get there with yours, too!
What to do about the Google Speed Update
The first thing to do is to check your site using the recently updated Google PageSpeed Insights tool. There's no direct tool to figure out how the algorithm change will affect your site, but this is about as close as you can get. This not only provides your website with a score out of 100, but also provides concrete steps on what needs improving, and points you in the right direction on how to actually go about improving your site. If that doesn't do enough, you can also dig in deeper with a tool like a waterfall chart. Once your website is loading quickly on both desktop and mobile, you can rest assured that you won't be negatively impacted by the Google speed update.