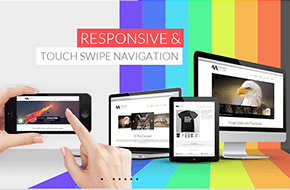 The easy-to-use plugin for all your slider needs
Feature your services and products in a stylish carousel
So you've decided to use a slider over a simple static image in your WordPress website. You may have seen in our featured plugin list that we recommend the Master Slider plugin. This plugin isn't free – so is it worth the money? In short, you get what you pay for. It would be possible to code in your own slider, or try to find a plugin that makes one for free. But the extent of features and customization provided by Master Slider is worth the money, and saves you the time working it all out for yourself. Read on to see what this plugin truly offers:
Work off a template, or customize from scratch
As soon as you install Master Slider, you're prompted to choose from their 70+ slider templates to get started. Already, that can save tons of time and creative effort by choosing a pre-built slider that meshes with the style of your website. However, these templates aren't there to limit you. You can add customizations to any of the templates, or simply build a slider from scratch with a user friendly menu (as opposed to the typical wall of CSS code). The sliders are easy to implement, too – all it takes is a simple shortcode. Adding a new slide to feature your new product, service, coupon, etc. can be done in mere minutes.
Optimize the Master Slider settings for a perfect showcase
Every slide in Master Slider can be laid out differently within the template, with various animations. Each slide can also have a custom time it lingers before moving forward. That's even if you want it to move forward at all, of course. Implementing this without a program to help takes an intricate knowledge of advanced coding languages. Simple HTML or even PHP won't cut it. But with Master Slider, you can make these changes with the click of a button. There's also a whole list of options for how the slides look when they change, what the navigation looks like, mobile settings for responsive design, and much more.
Still not convinced? You can test out Master Slider with a free demo, and push it to its limits. We've only listed some of the foundational features in this article, as well. This plugin has total video support, works with visual builders if you're using a customizable theme, integrates with Facebook and Flickr to display their photo galleries, supports slider hotspots, includes parallax options, and the list continues. This plugin is certainly worth the money to showcase your products or services in the best, most stylish and modern light possible.