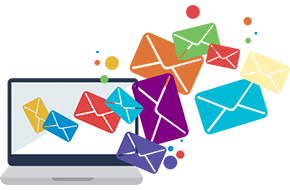 Get important info and sales directly to your customers!
Read on to find out how you can succeed with email marketing
In short, starting an email marketing campaign to promote your website can help drive traffic to your business, expand social media presence, and overall increase your bottom line. It's an effective way to keep consumers updated on your business, thank them for their support, and offer sales to keep them coming back. Plus, it's a fairly reasonably priced service. Several providers offer free plans for companies with low subscriber counts, or just or low email needs. You can get started easily, too. All it takes is for you to ask for your customer's email address, whether that's online or in person. You'll be connecting with your customers like never before!
Keep in mind the drawbacks
However, email marketing is not some sort of miracle solution that can improve your business overnight. There are definitely some drawbacks to consider. First off, because of its affordability, many consumers are oversaturated with emails. It's easy for people to hit the delete button after just reading the subject line of your email. And while sending emails may be affordable, that doesn't mean it's always free! Besides, even free plans take time and resources to create and send.
Along those same lines, it can be hard to start that marketing list at the beginning. People can refuse to provide their email, or quickly unsubscribe from their list because of the previously mentioned over-saturation. You can rent other people's lists, but these are usually pricy and aren't tailored to your own needs. But don't lose hope! Lots of people still click through because they know the great deals and info these emails can provide. Once you get your list solidified, all the hard works pays off.
Craft compelling messages
Emails are a great way to speak directly to your users – and it's important to make a good first impression! Once the subject line draws them in, it's important to have well-crafted and compelling copy to drive them through the information and keep them engaged. Adoric has some great tips for crafting email copy that converts, whether that conversion means making a purchase or just clicking through to your blog post.
Implement email marketing today!
At Mr. WPress, we're here to help you get started with your email marketing. Whether you're just starting out or need to fine tune, we've got years of applicable experience. There are other places to find email marketing too, if you're ready to strike out on your own. One service that's receiving attention now due to their recent and successful fake ad campaign is MailChimp. MailChimp gives you the ability to create your own email templates, and send them out to your own customized lists with the click of a button. There's not much hand holding, but if you know what you're doing, MailChimp is an incredibly valuable service. But if you need that initial help, Mr. WPress is delighted to offer that service!