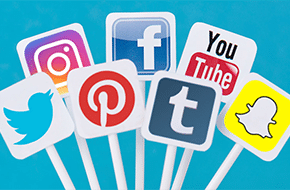 Which social media platforms are best for your business?
What is social media good for, anyway?
In the simplest terms, social media is good for getting  your name in front of as many people as possible! While building an email list and running an email marketing campaign is certainly a more focused endeavor – how do you get that list started? Even once that list is started, how do you continue to develop it? Social media is a fantastic way to give word of mouth that kickstart it needs, and show any potential customers that you're about providing quality. But there are so many platforms out there – which social media outlets are best for you? Simply 'all of them' isn't always a valid possibility. Don't worry, at Mr. WPress, we'll give you a quick primer on the advantages of each platform.
Choose which social media giants fit your needs
Facebook is a great way to build a community of people interested in your business or products. You'll have a platform to make some in depth posts. Plus, you can connect with your followers in the comments section with polls, contests, sales, and more. One thing to keep in mind about Facebook is that people tend to look at your content on their own time. This means it's generally not the place for flash sales or quick, back and forth conversations.
Twitter is all about quick conversations, with most people's purely chronological post feed. And with the 140 character limit on posts, the whole platform has become casual, too. This is the place to run flash sales, post sound bite updates that aren't necessarily critical to your business, and develop your company's fun side. Already have a Twitter account? Check out some methods to get more Twitter followers.
Google+ is more than just an upgraded way for people to review your services. Even more than Facebook, it's a way to connect with people who are truly passionate about what you offer. This usually manifests in branching discussion threads and reviews. It's not so much about directly posting ads, but about showing your consumers that you're truly passionate about your field, and not just trying to earn a quick buck.
A little less conversation, a little more action
Get help with your social media marketing plan!
So now, maybe you've chosen the social media platforms where you want to start running a profile. But how do you get started? What are the best practices? At Mr. WPress, we're here to help! Part of our online marketing service is setting up and even helping run social media profiles for our clients. Not ready to choose which social media platforms you need? We also offer email marketing and Google AdWords services. Reach out for a free quote today!