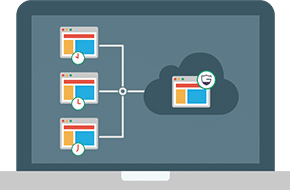 Backups are one of the most important components of any website
Just like everybody needs insurance, everybody needs a website backup
Do you know if your current web host backs up all of your website files and database? Typically, the answer is no. You have to ask them for a full site backup and pay them to do it for you. Yet A 100% website backup, including any databases, is critical to every business. You need to do a full website backup on a regular basis. We can't stress this enough. Loss of data can occur due to many unforeseen factors. One example is an update in your code that unintentionally breaks other functionality on your website. Even weather can effect your computer and site. Mr. WPress can make automatic backups (top to bottom) that run as often as you would like.
Computer Crash? Don't let it ruin your day.
It happens on occasion.  Maybe it hasn't happened to you yet, but it could. A site backup keeps you up and running and can really help if a change causes functionality to break. A backup from Mr. WPress includes a full export of all of your data and files from your server to multiple backup storage locations. We alternate locations to be absolutely positive you have all of your files at your fingertips if one location fails. You never want to have all your eggs in one basket when disaster hits. If your site fails, reloading your backup is as simple as a few steps and you are back up and running. We will give you step by step instructions and help you through the process.
What happens when you don't have a full website backup and crash?
This could be a very costly business mistake. The short answer is: you could lose your entire website. If you don't have a backup, there's no way to restore any lost data or code, aside from creating it again from scratch. Depending on how much you lost, and the complexity of it, this could potentially take weeks. That's besides the fact that it's money out of your pocket, too. Avoid having to recreate everything you have, or having to create a whole new site. Get a website backup – it's just like insurance. You don't always use it, but when you need it, you really need it!
Don't lose a day, or a week, or a month of business because you don't have a full website backup on a regular basis. Contact Mr. WPress for your free consultation right now!