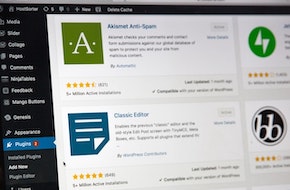 Get the toolset needed to effectively manage your website
We've updated our list!
We've talked about our recommended list of plugins before, but not really in the context of starting up a new site. Plus, the list is always growing and evolving as we try out new solutions and find the best in the business! With that in mind, here's our starter checklist for spinning up a brand new WordPress site. Every site has its own unique requirements for features and extras, but a solid foundation of starter programs will get you off on the right foot.
A few tips for a fresh website:
Before we get into the plugins themselves, there are a few key settings to change on any fresh install:
Head to Settings > Permalinks and change the permalink structure to 'Post name.' This is the ideal setting for SEO, and just makes for cleaner links around your site.
In Settings > Reading, there's an option to discourage search engines from indexing your site, if it's not ready for the world to see yet for whatever reason.
WordPress creates a default post ("Hello, world!") with a comment, and a default page ("Sample page"). You won't need these, feel free to delete them.
As you head over to the plugins section, you'll find an active program called Akismet Anti Spam. There are better solutions out there that don't require a license to work, so ditch this one!
Wordfence Security
Now that the dummy data is cleaned up, it's time to start adding those important plugins! First and foremost is Wordfence, the premier security plugin for WordPress. This plugin protects from a wide range of threats, from blocking brute force attacks to enabling 2FA to prevent more sophisticated bad actors from breaking in. You can even get notifications about vulnerabilities that need to be updated, and scan your site at any time if you think something fishy is going on. The peace of mind itself is invaluable!
UpDraftPlus Backups
Like Wordfence, UpDraftPlus is another handy tool to have on your site for peace of mind alone. If you only use this plugin for one thing use it for taking backups of your site. You can schedule routine, automatic backups that upload to your cloud service of choice. Then, if the worst ever happens, you'll have all your site files ready to be restored at a moment's notice. And that doesn't even scratch the surface of this plugin's usefulness in development, plugin updates, and automatic restores. And all that's for free! There are paid features in the Pro version too.
Yoast SEO
You can visualize your SEO health with ease using the Yoast plugin. As soon as the plugin is active, each page and post on your site gets its own tool to gauge a myriad of SEO-related stats for your chosen keyword. Simply enter the phrase you want any given page to rank for when editing, and the plugin will provide you with a checklist of items to improve your ranking. You can also use it to manually write the meta title and description, which is what shows up in the Google search results, to make sure your page is as enticing and welcoming as possible.
WP Rocket Optimization
It's hard to beat the sheer optimizing force of WP Rocket. This is one of the only two plugins on this list that are paid, but it's well worth the cost. WP Rocket makes speeding up your site easy – with options like file minification, optimized script delivery, image lazy loading, customizable caching, and more available with the click of a checkbox. We tend to go aggressive with the settings and scale back if needed, like if a feature doesn't work with when combined with others. But even the most basic settings will streamline your site's performance and make it load lightning fast.
Gravity Forms
The only other paid plugin on our list is Gravity Forms. You'd be hardpressed to find a site that doesn't have some kind of form, whether that's a simple contact form or an in-depth questionaire. And everything you need is possible with Gravity Forms. Admittedly, there are plenty of other options available, and for free as well. If all you need is a simple contact form with three fields, you may not need Gravity Forms. But as soon as that form needs to integrate with your customer service system, or email provider, or you need it to create user accounts, you'll with you had Gravity Forms. The capabilities of this plugin are extensive, and make creating complex forms on both the surface level and functionality smooth and easy. Ever since we started using Gravity Forms, any other solution just feels weak by comparison.
WP Mail SMTP
WP Mail SMTP is the quiet hero of the group. It may seem simple, but the functionality it provides is essential. The default WordPress mailer is infamous for causing deliverability issues, breeding configuration errors, and sending to spam even when a message does get through. WP Mail SMTP allows you to override the default with an SMTP service of your choice, and it makes the process easy. No need to worry about lost emails anymore!
Need help getting your new website off the ground? Reach out to us for a free quote! We're happy to work with you to create a rock-solid foundation for your next project.