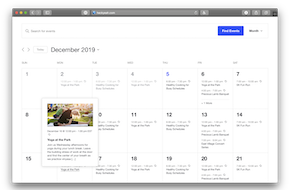 Create comprehensive calendars with The Events Calendar plugin
Make public events, schedule customers, and more
Oftentimes, clients come to us in need of some kind of calendar on their website. Maybe they want to let their customers know about in-person events or meet-and-greets in one convenient location. Maybe that event is virtual, and they need people to register to get in. Or maybe they need a way to schedule tours or other appointments right on the website. Our first recommendation is always The Events Calendar plugin from StellarWP. This powerful tool makes it easy to manage and publicize all kinds of events, with plenty of handy features for your users as well.
Extensive custom post type for events
The meat of the plugin lies in the custom post types made available to you for creating events. Said posts come loaded with every type of meta field you could think of, and then some. From the basics like host and time, to more complex data like dynamic location (depending on whether it's a virtual or physical event) and ticketing capabilities, The Events Calendar is ready to provide all the information needed to your users. Not to mention the usual WordPress data like images and descriptions, plus categories and other taxonomies exclusive to the event post type. Setting up a custom post type isn't necessarily difficult, but it's the extensive fields that come with the post type and the dynamic settings related to it through the plugin itself that makes the plugin invaluable.
Attractive, ready-made frontend templates
But what good is entering all that data if the users never see it? Not to worry, The Events Calendar plugin comes with fully fleshed-out frontend templates for the event pages and the main calendar itself, with views from a single day up to a whole month. These event lists come with plenty of searching and filtering capabilities too, and are responsively designed. That's not even mentioning the extensive hooks and developer documentation that make the user experience easy to customize. The integration with Google, iCal, and other calendar options make it easy for users to put the event on their own schedule.
Even more benefits with the Pro version
Of course, you get even more capabilities if you decide to upgrade to the Pro version of the plugin. Such as:
Recurring events: Take the hassle out of duplicating an event over and over, and instead make the event repeat with a few simple settings for however long you need.
Custom event field creation: Need more than the event options available out of the box? Add your own custom fields to the event to put your own unique twist on the calendar.
Venue and organizer pages: Spotlight specific venues or event hosts with pages dedicated to showcasing their information (and events, of course!)
Calendar shortcodes: Take your calendar beyond the events page and add them wherever you want to entice your users.
More views (photo, map, summary): Provide more specialized views to your users for the event details. Maybe they want to check out the venue more closely? Maybe you want to provide crystal-clear directions? Or maybe you want to offer a compact view where users can see the key information at a glance? Pro has all of these views, and more.
Powerful integrations: appointments, community events, and more
Even beyond the full suite of capabilities included in the plugin, there are numerous integrations with other services available too! One of the most common requests is appointments, allowing users to schedule tours or services or all kinds of things. Maybe you want to send email reminders and notifications for the events from your own ESM? The plugin has plenty of integrations to make that happen. There's even an integration with Elementor that allows you drop in elements from the plugin with a simple widget, and customize to your heart's content with Elementor's own easy-to-use style settings.
That's not to mention the additional add ons developed officially, either. One of the most popular is community events, allowing your own users to submit and manage their own events. You can allow your users to connect like never before with this powerful add on.
Need help setting up the plugin? We've configured and customized the plugin for clients many times, and are familiar with the ins and outs of how to make The Events Calendar meet your specific needs. Don't hesitate to reach out to Mr. WPress for a free quote today, or read more The Events Calendar before making your decision!